Here's a topic I want to discuss! When to tell people… and how.
Wasn't really much to think about for us – we originally wanted to wait, and tell everyone when we would be more sure, but since we were traveling for the holidays and seeing our parents – we figured what better time than Christmas/New Years? Plus we'll trump everyone else's gifts =)
On top of that I didn't really have much of a choice since my morning sickness had already started, and chose not to be tied down to a particular time of the day.
And most people get very excited and it's nice to share the news with them. However, every now and then I will come across someone that reacts in either this awkward way or makes me feel bad.
If a person hesitates to become happy and clearly takes several moments – I feel like they are not genuinely happy for us then, and I don't care to include them or share news, etc. And they've stayed away from this blog or from contacting me directly, which makes me more confident in my initial feeling.
I've also gotten a few almost angry reactions – one person even said – why you??! It should be me! Like it's my fault… Should I take a part time job as coordinator of their bedroom affairs? =)
And now I am also starting to understand why Russian people tend to be so secretive with their pregnancy information (you know who I'm talking about!!!). Really, it's so annoying!!! Or so I thought before, I realize now – there is something more annoying than that.
I don't know why, but when most Russian people respond to pregnancy news – they, or I guess we, do it negatively, almost in an accusatory manner – "WHAT!!! Are you PREGNANT or something??"
It's not like I got knocked up at some concert guys, not like my life's over… I'm pretty sure this is what I want. Note how I don't go out and party all the time, no I will not miss my pre-child life…
Now, this response is most common from people who don't already have kids, because people that do – the only feeling I get from them is: "I am genuinely excited for you and how happy you are going to be, and I can not even explain it to you, and you don't know what awesomeness is in store for you, but once you get there you will know and be amazed!"
It seems to be this unspoken secret society that the first group of people (the accusatory ones) has no idea about and can not understand, and the second group – those that are part of it, are too happy to try and convince the former that they need to join. =) Am I right?
I do feel some kind of career-stigma associated with pregnant women. I've been hesitant to look for jobs in the past few years, and I do feel like I was probably passed up for some opportunities because maybe I had made it too clear that yes, I do want kids at some point in my life and I don't want to wait until I am 30+.
I had to leave my job pretty early on simply because it was a ridiculously long commute and I could not bear the thought of having to throw up on the train in the morning. And all these people with their breakfasts… I've seen pregnant women hustling to work, with their little snacks and what not, and I am amazed – more power to them. Unfortunately I do not feel like I have found any job that I could love more than my future potential kid…
So, what's the deal with people? What is happening to our society that pregnant women feel like they have to hide the news? I guess it has always been like this, huh? But why?
This is a super big deal, you guys!!!!!!!!!!!!!!!!!!!!! Like, HOLLY SMOKES big! =)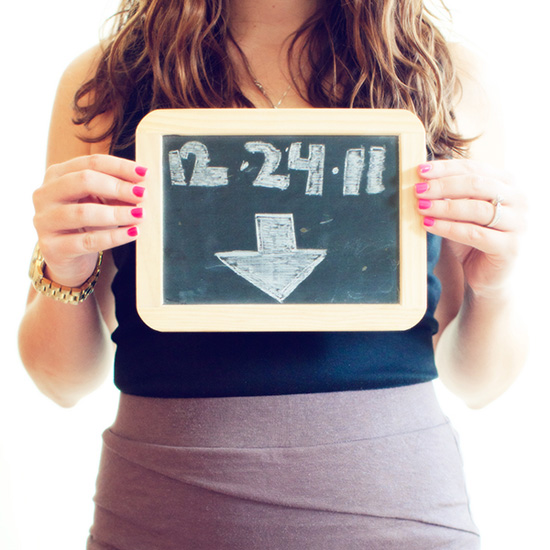 (I need to get a little chalkboard like that, super handy for photoshoots!!!)
So yes. How/when did you guys share the news? And where there people that you were hesitant to share with?
And, let me answer the traditional questions to spare you from asking =):
1. Feeling great today! Made some meatball soup that I've been craving.
2. Started working out on the wii fit, but I am back down to 106 lbs =((( Gotta eat more!
3. No, we still don't know the gender. Don't anyone dare ask me until at least the end of next month or I will publicly humiliate you on facebook!
4. Stomach is bigger than ever, holly smokes!! I might as well start taking daily measurements to monitor the progress!
And – here's a picture of my suuuper sleepy dog who clearly doesn't see anything wrong with lounging on the bed… Cracks me up!