First off: Disclaimer.
I am very happy, this is a wonderful miracle, so beautiful, so fantastic. And I am honored that I get to participate in the magic of creating life.
However, in the current situation, and for a very prolonged time up to now, it is proving a bit difficult to keep the positives in mind.
That brings us to today's fascinating topic: N*A*U*S*E*A!!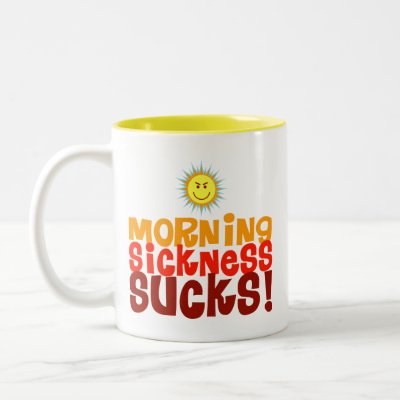 I can not possibly refer to it as morning sickness because mornings do not last until 3pm, or sometimes all day.
My handy dandy phone app tells me the nausea is supposed to significantly diminish this week, but so far it seems to only be getting worse.
I know it is different for everyone, but this is my blog, so here is what I have discovered makes me sick:
-Eating too fast
-Eating greasy foods
-Sometimes, eating in general
-Sitting up
-Lying down
-Rolling over
-Standing up
-Smells of all sorts
-People talking too much (that's a weird one, huh?) esp. arguing or trying to give me lots of advice all at once
-my prenatal vitamins, esp the DHA ones, but that'll be a separate post in itself
Basically – anything on a bad day.
My bad days consist of my stomach getting stuck on "self-clean" mode, and running through it once or twice every hour, regardless of what I throw down the chute, until right around bed time.
To reset my stomach on such bad days I've tried a multitude of cures found in the books and internet:
-drinking liquids in small sips – doesn't really make it stop…
-taking vitamin b6 (I've also tried b12) – no positive effect was noted
-taking ginger capsules – ginger-flavored burps for the next hour and then same story as above =(
-drinking flat clear carbonated beverages – this one sounds weird, flat carbonated? But pour the Sprite/7up/whatever one you like in a glass, and stir it for a couple of minutes, I found the light fizziness to be quite pleasant! And I think it might have worked once, but not since then.
The most effective thing seems to be sitting or slowly walking outside. The tricky part is getting outside since getting up and walking is usually a big trigger factor.
Now thinking about it rationally – I definitely have more good days than bad days, where after my mandatory morning stomach cleanse I am free to go about my day and eat eat eat. But those bad days, they sure hit hard. =( And on those bad days I'm ready to try anything. I would kiss a frog if it would settle my stomach!
But – it really is different for everyone.
Morning sickness is a side effect of the rising levels of the hormone progesterone. Progesterone does all kinds of wonderful pregnancy related things, including limiting the immune response so the body lets the embryo implant and does not attack it. And the drop in progesterone at the end of pregnancy triggers the onset of labor and lactation. Fascinating, I know.
So because progesterone is so important, low levels of it are considered bad, and if you are not experiencing any nausea – that could be an indicator that you're lacking some progesterone! And then the doctor will give you prog. pills and they will make you sick, so you still get the full experience.
But once again, no one's story is the same. A friend of mine – had no sickness, got the pills, saw that they were making her sick, ditched them, and a little under a year ago had a very healthy *knock on wood* baby boy! So I guess there is hope for some of us.
Now, in case potentially unnecessary science and lengthy complaining are a nausea trigger for someone else – I will end here for today ;)
But – people are always asking me how I'm feeling. Well, if you truly want to know – there's your answer!
PS: there really needs to be some sort of TV filter that would turn off all food related commercials, that's just cruel! And airports, you do not need a 3x6ft poster of SUSHI as soon as people walk in. No no no.
PPS: The cheery mug is available for purchase here